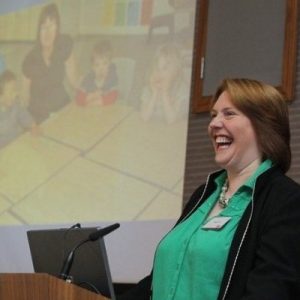 Maggie Hart is an experienced teacher with over 20 years' experience. 14 years ago, Maggie had her first child, who happened to have Down syndrome. Previously she had never taught a child with Down syndrome and had limited knowledge on the syndrome. As a parent and as a teacher, this sent her on a journey to learn more about teaching children with Special Educational Needs and to share what she had learnt. Now Maggie is considered a leading practitioner in educating children with Down syndrome.
During her career, she has been a member of the UK All Party Parliamentary Group on Down Syndrome which published a report (2012) presenting good practice guidelines for education for children and young people with Down syndrome, served as a Trustee for Down Syndrome Education International, completed her Master's in Education, with Teesside University and achieved the National Award in Special Educational Needs Coordination at the University of Cumbria.
Maggie also founded the Education Centre for Children with Down Syndrome, an educational charity supporting children, families and educational settings in the North East. She has worked with over a hundred children during her career.
Currently Maggie works part time as an Associate Lecturer for The University of Northumbria teaching students on the Learning Disability Nursing course and also as an educational consultant for the project Together 21, which supports children with Down Syndrome and their families. Having worked as the Advisory Teacher for Children with Down Syndrome, in Darlington LEA for the past 6 years, Maggie has a wealth of experience working with children from birth until 19 years old. She has spoken at regional, national and international conferences and is an inspiring speaker. Maggie as a teacher, and parent, is passionate in working to ensure that the right to an inclusive education is every child's right.